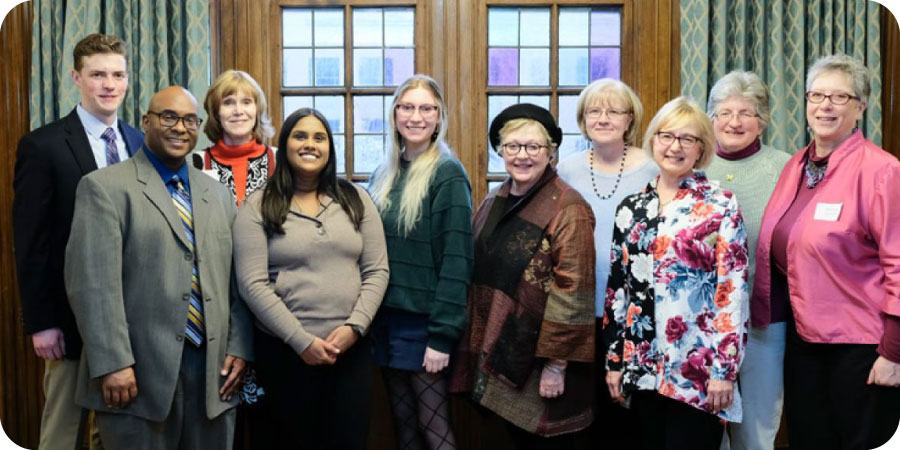 The Michigan League Board of Governors serves as an advisor to the league director in matters of policy and practice. The Board also serves as an advocate for the Michigan League by promoting the heritage of the iconic, historic building. The Board oversees the operations of the Friends of the Michigan League and provides insight and student input on Michigan League projects.
---
Mission Statement
The mission of the Michigan League is to create a gracious and welcoming environment to support the educational, professional, cultural, service and social needs of the university community with a renewed focus on students.
Key Projects
Maizie's Kitchen and Market
Blagdon room history display
Provide insight on services and operation during a pandemic
Advise on health and safety protocol implementation
Space utilization and facilities planning
Michigan League Scholarships for student employees
---
Current Members
Barbara Balbach
Benjamin Davis
Emily Gao
Barbara Gomez
Kathy Griswold
Benjamin Leavitt
Lois McEntyre
Ann Moln
Susan Pile
Benjamin Russel
Sheryl Szady
Xavier Wilson
---
To Apply
Members of the Michigan League Board of Governors are afforded these opportunities:
Gain valuable leadership experience
Work with students faculty, staff, alumni and friends who have a shared interest in the League
Gain experience in the areas of board development, policy setting, strategic thinking and public relations
Terms are for one year. Current undergraduate and graduate students are eligible. To fulfill the mission of the Michigan League Board of Governors, members shall:
Attend Board meetings
Participate in the Board orientation during the initial term on the Board
Serve on at least one committee
Participate in as many of the activities of the Board and the Friends as possible
For more information, please contact us at (734) 647-9909.
I felt like I was needed, and my experiences as a student and student employee were seriously considered in the decision-making processes.